Clients Achieve Success
Professional highlights & achievements
Dr Noel Blundell is an internationally renowned Sport Psychologist.  He has a high national and international media profile in television, print and radio due to his outstanding results working with elite athletes.   As a result of his success with a broad range of international athletes, he was dubbed by the media "the sport psychologist to the stars".
Over the past 30 years Dr. Blundell has been directly involved in producing 23 World and Olympic champions and World #1's. These include Ash Barty (tennis), Lleyton Hewitt (tennis), Arthur Brett (dual World Champion in Board Sailing and Yachting), Lee Brownbill (Shooting), Brett Thurley (Water Skiing), Lauren Bevaart (Triple World Karate Champion), Lauren Burns (Olympic Gold Medallist – Tae Kwondo), Tom King & Mark Turnbull (Olympic Gold Medallists, Yachting), Minjee Lee and Su Oh (Golf), Danielle Woodward (Olympic Silver Medallist – Slalom Canoe), Scotty James (Half Pipe Snow Boarding, World Champion). He has worked with numerous National teams, including Softball, Parachuting and Squash.

Scotty James, World Champion Half Pipe Snowboarder

Lauren Burns, Olympic Gold Medallist Taekwondo, Sydney, 2000
Golf
Head of Elite Performance Psychology for Golf Australia

Consultant to

Australian PGA
Golf Victoria
Victorian Institute of Sport
Golf Clientele
Have won multiple majors

Have won extensively on the men's and women's international circuits on the U.S.A, European, Japanese, Asian and Australasian tours.

World Golf Hall of Fame

inductees

Sandy Lyle

(British Open and U.S Masters)

Karrie Webb

(7 majors including all 5 of the Women's Majors).

Other notable clients:

Hannah Green KPMG Women's USA PGA 2019  championship

Former British Open Champion and World #1

Bill Rodgers

(USA),

Nicholas Colsaerts

from Belgium (European Tour winner and Ryder Cup player)

Robert Allenby

(World record holder for playoffs, 10 wins against only 2 losses)

and multiple tour winners:  

John Senden

,

Cam Percy

,

Matt Griffin

,

Peter Senior

,

Rodger Davis

,

Craig Parry

,

Brad Hughes

,

Stacey Keating

,

Bec Artis

,

2014 World Champion Amateurs

Minjee Lee

and

Su Oh
Oliver Goss, amateur champion at Augusta in the US Masters 2013.
Tennis
Tennis clients include:
Paul Annacone

(former World #11 singles; #1 doubles and Australian Open Doubles Champion; former coach of world #1 Roger Federer and world #1 Pete Sampras)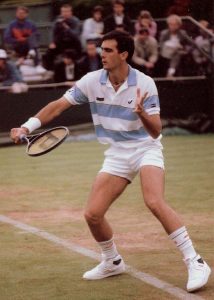 Jason Stoltenberg

(former World Jnr Champion; Wimbledon Semi-finalist; Australian Davis Cup player; and former coach of former World #1 Lleyton Hewitt)

Mike de Palmer

Jnr. (former world #30 singles and top #10 doubles and coach of Boris Becker)

Nicole Pratt

(World top 35, Australian multiple Federation Cup player; 3 times Olympian and National Women's Coach)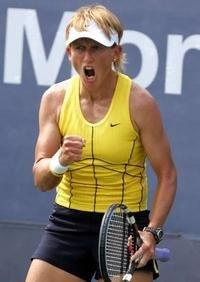 Betsy Nagelsen

(Runner-Up Australian Open)

Ash Barty

(2019 World Top Ten WTA Tour, 2018 US Open Doubles Champion, Wimbledon junior champion)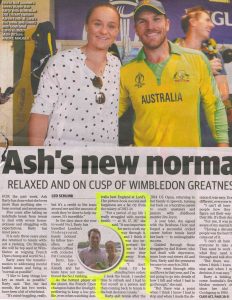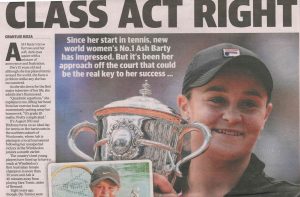 Dr Blundell has been actively involved as a consultant to the International Tennis Federation, Tennis Australia, Tennis Victoria, Australian Institute of Sport, Victorian Institute of Sport, and the Australian Tennis Coaches Association.
Foreward and autograph from Pete Sampras on So you want to be Tennis Pro?
     
Australian Football League
Dr. Blundell had been a consultant to the

AFL (Talent Development Division)

for the past 30 years. He has been involved in the

AFL Draft Combine

since its inception, being responsible for the Psychological and Psycho-Motor evaluations.  

His results from these evaluations are presented to the AFL and subsequently to all the AFL clubs.

Dr Blundell continues to liaise with recruiting managers from the clubs and Head Coaches.

In addition Dr Blundell has worked with numerous AFL teams and individual players from

Essendon, Brisbane, Geelong, Richmond, North Melbourne, Carlton, Western Bulldogs

and

Collingwood

.
Other football codes
National Rugby League (NRL)

Dr Blundell has worked with the

Manly Sea Eagles

and

Melbourne Storm

as well as the

Rugby League National Coaching Council

.

In

American football

he was directly involved with the

University of Tennessee

football team, former USA National Football Champions. He was specifically involved with Talent Identification and Development as well as individual and team preparation and performances.
A high percentage of his clientele went on to perform successfully in the National Football League (USA), the most notable of these was NFL Hall of Fame Defensive End Reggie White, who represented the Philadelphia Eagles and the Green Bay Packers.
Motor Sport
Dr Blundell continues to have extensive involvement in Motor Sport with multiple V8 Super Car Champion Mark Skaife; David Reynolds; Glenn Seaton; Lee Holdsworth; Mark Winterbottom

and numerous other drivers.

David Reynolds 2017 Bathhurst Champion.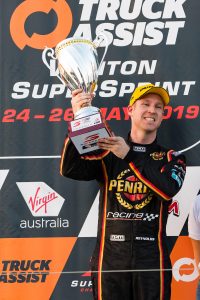 He also contributed to the success of former World #3 Super Bike rider

Kevin McGee

.

He has taken a major role in

talent identification

, consulting with

Confederation of Australian Motor Sport (CAMS)

and the

Australian Motor Sport Federation (AMSF), the aim being to assist in identifying and developing Australia's next Formula 1 champions.  
Consultant to the Federation Internationale de l'Automobile for Formula 1.
Former Clients Apply Knowledge and Skills
Eight have gone on to coach multiple major winners in tennis and golf
Paul Annacone & Roger Federer "Paul Annacone coaching World #1 Roger Federer at Wimbledon"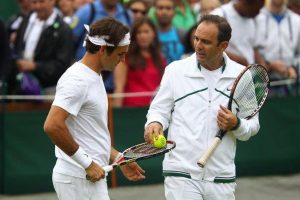 Several have become Heads of Player Development for National Sporting bodies in the USA, Great Britain and Australia (Paul Annacone, Jason Stoltenberg, Nicole Pratt, Adam Vella)
Some have become National Coaches in several countries throughout the World (Arthur Brett, Sailboarding – current Japanese Olympic Coach)